Spring Roll Pasty is usually identified with Chinese food, and rightly so. But, there is no reason it should be restricted to just that. Spring Roll Pasty is used for egg rolls and comes in two basic sizes; 5" x 5" and 8" x 8". Some grocers carry this in the freezer section and in the produce section of their store. If you can't find them there you'll have to travel to your nearest Oriental/Asian food store.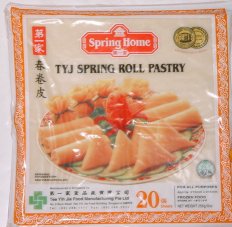 I like to use the 5" x 5" pastry because it makes a perfect sized pop-in-your-mouth appetizer.
Since we do all this great flavorful cooking in South Louisiana we usually have a ton of different choices for fillers. In general if you can sit it on the pastry it'll work as a filler.
Here are some ideas as fillers for your appetizers. I haven't tried all of these yet.
Note: Raw meats should be fully cooked before making your appetizers. Tough vegetables should be pre-cooked.
Meat:
Sausage - Fresh: Cook the sausage first and add minced onion, mushroom and bell pepper.
Sausage - Smoked: Cut in half lengthways and slice or dice. Add additional veggies.
Hot Dogs: - Cut in pieces, add small piece of cheese and mustard.
Pepperoni: Cut in half lengthways and slice, add pizza sauce.
Andouille: Cut in half lengthways and slice. Add additional veggies.
Boudin: Cook and break apart
Ground beef: Cook fully adding your choice of veggies and seasonings. Also make a small recipe of Hot Tamales.
Chuck Steak: Cook fully and cut in pieces with your choice of veggies and seasonings.
Pork chops: Dice and add veggies and seasoning
Ham: Smoked or other, add dab of mustard, cheeses of your choice.
Chicken: Cook fully and cut in pieces with your choice of veggies and seasonings.
Leftover barbeque: cut in pieces add onions and mushrooms.
Leftover Pork Roast: Add dab of creole mustard and honey and garlic.
Seafood:
Crab: Use stuffed crab or au' gratin recipe as is [Here's an example]
Shrimp: Boil in seasoned water, dice, add rendered bacon and spices
Crawfish: Use bisque recipe, or dice and add veggies and sausage from crawfish boil.
Misc:
Egg: Add cheese, sausage, rendered bacon and spices.
Veggies: Just about any cooked vegetable like smothered cabbage or okra.
Deep fry them until golden brown. Everything inside is already cooked so all you're doing is heating it up and cooking the pastry.
If you come up with other ideas let me know, I'll post them here.
Enjoy...