Are you one of of those folks who has a charcoal pit and just can't see buying a big gas grill? I am, so, I went searching for something small. I like a gas grill to do the quick stuff like burgers, hot dogs and steaks. I wanted a table top model, sort of like the old Coleman stove, an portable. What I didn't want was something that would rust away. After stopping at a few places I wound up at Academy Sports. I found exactly what I was looking for. It's an Outdoor Gourmet.
Notice as you view the pictures this grill is stainless steel throughout (no rust).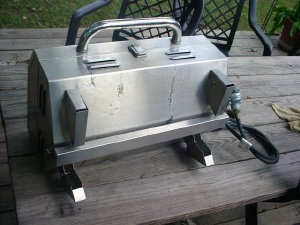 See how it packs up like a suitcase; ready to travel.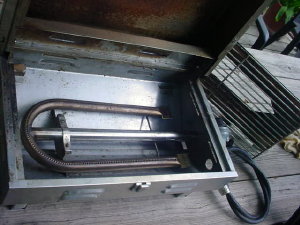 It can be taken apart for easy cleaning. Being totally stainless you can use any oven cleaner on the entire grill..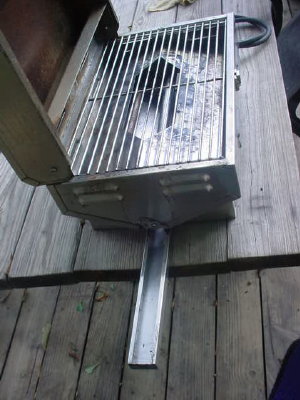 The small slide out tray collects grease drippings and removes completely for easy cleaning. Just don't make the mistake of packing it up while the grease is still hot and in liquid form.
The baffle below the grill completely covers the burner to reduce flare-ups.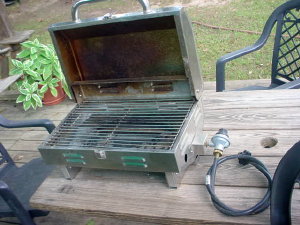 I have an adapter line on it to fit a regular propane bottle, and, a regular Coleman fuel bottle will screw right on. It doesn't have an igniter and the control is a little awkward to read which is its only downfalls.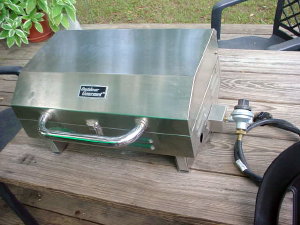 I though it was a good deal at $100.00
Weber makes a tabletop model also...Click here.

Char-Broil also makes one... Click here.